Monida Healthcare Network Credentialing
Monida credentials our members according to standards established by the National Committee on Quality Assurance (NCQA). These standards include primary source verification of each applicant's education, licensing, malpractice insurance coverage and board certification. In addition, Monida has adopted rules through our Bylaws and Rules and Regulations addressing issues such as hospital privileges, use of locum tenens, medical malpractice claims, etc. Every member must meet these criteria, except in a rare instance when the Board may grant an exception.
A large advantage for our members of being credentialed by Monida relates to participation in Monida's payer contracts. If you participate directly with a payer, each payer will require you to undergo credentialing and recredentialing. When Monida negotiates payer contracts, we expect payers to delegate credentialing to Monida. If you are credentialed with us, you are credentialed for all of our payers you have chosen to connect to, reducing significant burden on you and your staff keeping your paperwork up to date with multiple payers.
If you have any questions regarding Monida's credentialing process or with your current credentialing status, please contact Staci Flynn (406) 829-2380.
Are you searching for the missing piece to your credentialing and/or payer enrollment process?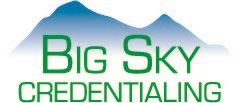 Big Sky Credentialing is a Credentials Verification Organization (CVO) that offers a variety of services including full provider credentialing as well as payer enrollment. Whether you need providers to be reviewed by your Medical Staff Committee for privileging or to be enrolled in Medicare or Medicaid, we complete all applications and the necessary follow up needed in order to achieve successful credentialing. Our expertise is here to reduce the administrative burden of credentialing and enrollment and to help you increase the efficiency of your organization. Give us a call today at (406) 241-3362 or email Big Sky Credentialing
Our Mission
Successfully navigate the complex world of healthcare, building collaborative relationships between providers and hospitals, and pursuing shared strategic programs and services.
Our Vision
As a leading member-driven organization, Monida Healthcare Network will engage its hospitals and providers to implement processes and programs that improve our communities' population health, control costs and improve healthcare quality.
Our Core Values
Expertise
Professional Development
Honesty & Integrity
Service Excellence
Collaboration
Financial Performance